Designing the Spirit of Christmas
Each year for the past six, we've run a Christmas story over on the Something Awful forums. We're going to be putting up some peripheral pictures here this year as the story goes on, like the original sketches & pencils, or enlarged versions of some of the pictures, etc.

To start with, here's the star of this year's story, a new character who has just worked out that she's the Spirit of Christmas.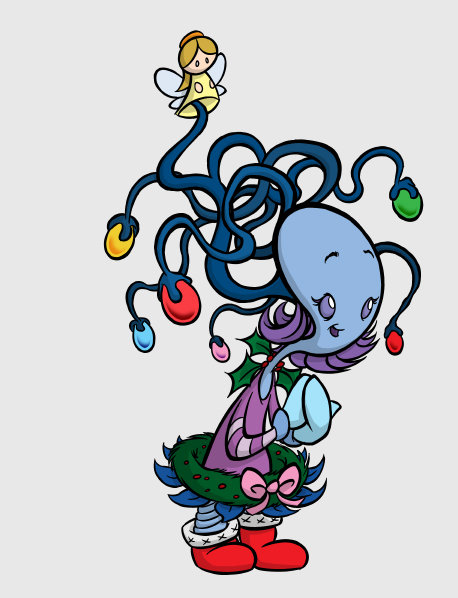 We've already had one Spirit of Christmas character (and you'll be seeing more of him soon), so the difficulty was in making this one look different. We'd already put all our thoughts about what the Spirit of Christmas might look like into the previous design, this time we needed to do something as different as possible but still keeping within the same sort of design so people would recognise what they were looking at.
Here's how I designed her. First of all, Abby drew a sketch based on what I'd said I was thinking of, which was something along the lines of "a twisty alien tree thing". I can't find the sketch, but I can find the sketch I drew in response, having watched Abby draw it from across the table. I'd seen just the sort of shape I was looking for not in what she'd actually drawn, but in the upside-down version I could see from where I was sitting. I drew this to show her what I meant: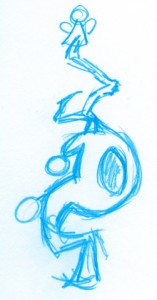 And from there I drew a few different versions…
…until I got her to her final design.